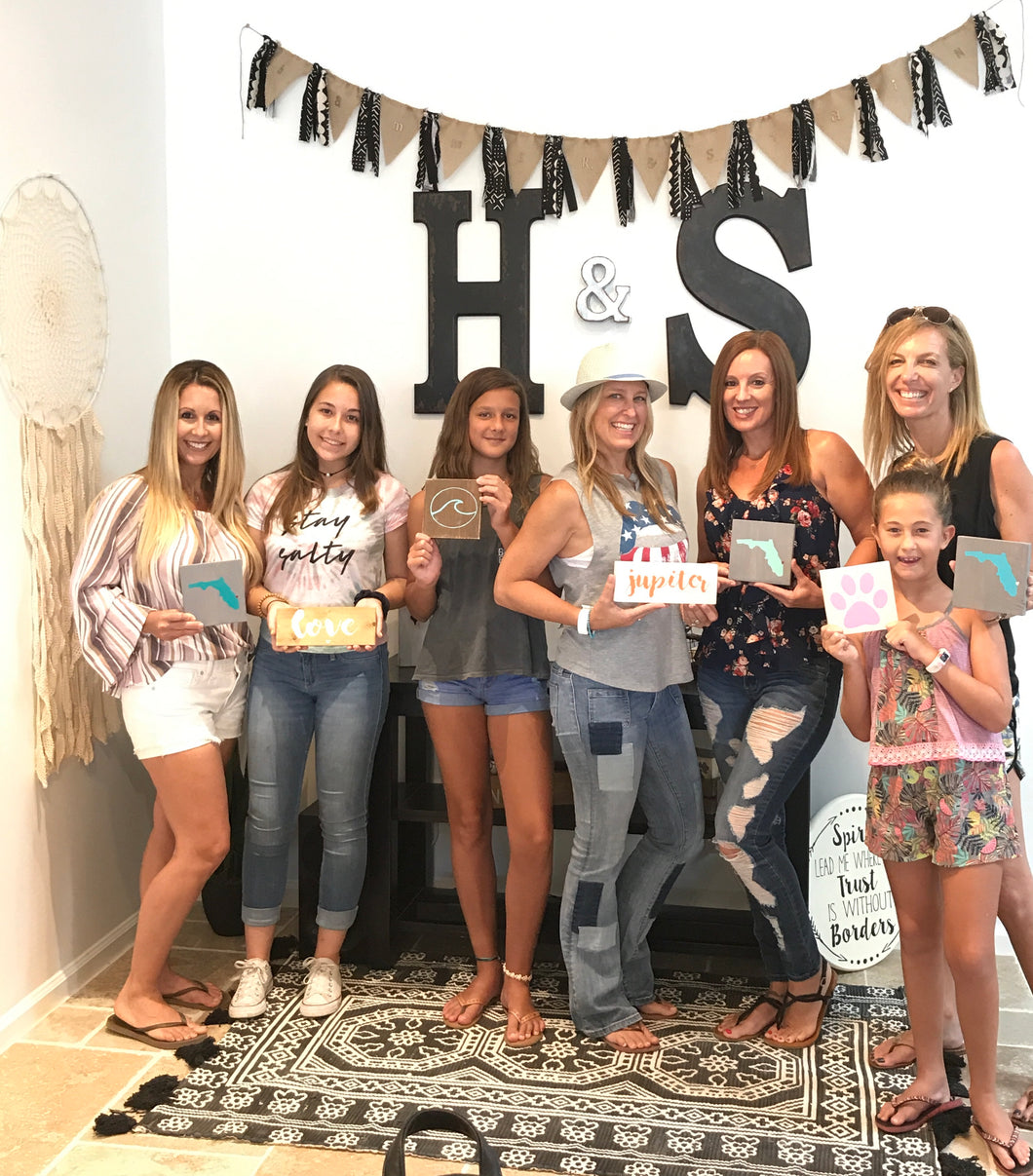 10/03/2020 Saturday 10 am-2pm Open Paint (Walk-In Style) (Palm Beaches)
Hammer & Stain DIY Workshop Palm Beaches
Come join us at Hammer and Stain Palm Beaches for a "walk-in style" wood and paint workshop. All ages welcome.
As of 9/26/2020, due to COVID-19, we are limiting the number of persons in the studio and masks are required to enter. We will continue to monitor PBC's lifting of restrictions throughout the week and update as needed.
Open Paint Studio is considered "walk-in" style and operates on a first-come, first-served basis. However, we are currently offering reserved seating, which we highly recommend so that you can be guaranteed a spot. Simply click on "Add to Cart" below, after agreeing to terms. You will need to add one reservation for each individual in your party. For example, you will need to press "Add to Cart" for each individual. Please note that we will only hold your seat for 10 minutes past the reservation time.
If reservations are full, no worries! Feel free to walk on in and see about an empty seat. We will try our best to accommodate all of our guests the best that we can while also practicing social distancing and CDC guidelines.
When you arrive, you will choose your wood and then choose from our hundreds of pre-cut stencil designs. You will then make it your own by selecting your favorite stain and paint colors. Our instructors will guide you through the process from start to finish, making your experience fun and relaxing. Projects range in price from $7-$50. 
Don't want to stay and paint? No worries - we will package your project up as a take-home kit.
We take our last walk-in 30 minutes prior to end time. Hope to see you there! Let's Build Some Memories!
Terms
Due to the customizations at ALL our workshops, there are NO REFUNDS FOR ANY WORKSHOPS! However, if you cancel with at least 72 hours notice your FULL reservation fee will be turned into a store credit that can ONLY be used for future workshops. Cancellations with less than 72 hours notice or no-shows will NOT get a credit for a future workshop, but will have 30 days to return to pick up your project as a take-home kit! Please email us at hammerandstainpb@gmail.com to cancel. EXCEPTION: THERE ARE ABSOLUTELY NO REFUNDS OR CREDITS GIVEN TO SUMMER CAMP REGISTRATIONS, SPECIALTY WORKSHOPS, OR TAKE-HOME HAMMER AT HOME ORDERS.